Diversity in Surf
The surf community is notoriously insular, white, straight and male. Anyone outside of these categories must navigate a surfing world that does not cater to their cultural reality or body types. 
The indigenous origins of surfing - from Polynesia to Peru to West Africa - tell another story of how the sport was appropriated by the West. As we live on stolen land and borrow the oceans from future generations, it's important to acknowledge this history and pay tribute to those who were here before us, in order to create a more inclusive future. Join us for a deep discussion about the colonial, racist and sexist history of the sport and where we can go from here. 
Hear from Bay Area surfers who span multiple cultures to thrive in a class of their own. All proceeds from this event go to City Surf Project. 
This event occurred on November 15, 2018 at Traveler Surf Shop in Pacifica.

Read and watch the highlights here. 
-----------------------------------------------------------
PANELISTS: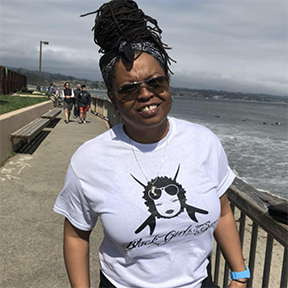 Rhonda Harper, Founder of Black Girl Surf
Rhonda Harper is a real live version of Dorothy from Kansas who followed her yellow brick road to the shores of Santa Cruz, CA. Her seemingly never ending journey to find Oz has led her to some of the most interesting career choices. From celebrity designer, Silicon Valley executive, the US Coast Guard, surf journalist and contest organizer/commentator her lifelong passion for surfing led to activism to advance black surfers worldwide. Black Girls Surf, her current labor of love, is training African female surfers including Khadjou Sambe who was recently featured in Outside Magazine to qualify for the first Olympic Games surf competition in Japan 2020. 
DONATE AND GET THE GIRLS TO 2020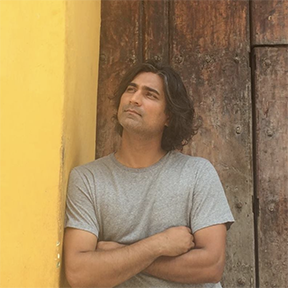 Manav Thapar
Plant-based food start-up entrepreneur, adjunct faculty at SFSU, and sports psychology consultant. Manav is an avid outdoorsman and adventure traveler. Rock climber, snowboarder and surfer, with gratitude, a seeker of truth, inclusiveness & justice and a lifelong learner.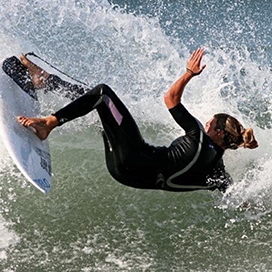 photo: Jetty Girl
Kyla Langen, Founder of Queer Surf 
Kyla Langen has been riding waves since she could walk, and lifeguarding and teaching surfing for 20 years. Surfing professionally for 12 years, she swam upstream as a gay women in a heteronormative, patriarchal surf industry. Because of her experiences and limitations in the surf industry she started teaching to diversify the water. Kyla believes in the healing, empowering magic of the ocean and wants all people to have access to it.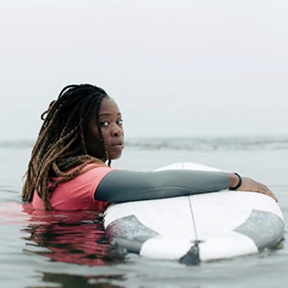 Photo Mancy Gant 
Natasha Brown
Natasha Brown is a surfer and educator from New York City. Her passion for surf started at a young age, and grew into a lifestyle. After living in Costa Rica and surfing amongst a diverse lineup, it has been a personal goal of hers to use her voice to advocate for more diversity in the lineup here in the United States. She strongly feels that surfing can offer a space of healing from the trauma people of color face by just existing. Her main goal is to share the feeling of freedom in the water with all that are open to receiving. 
"I'm way more fearful of being a female of color on land in America than I am out there in the middle of the shark triangle." —Natasha Brown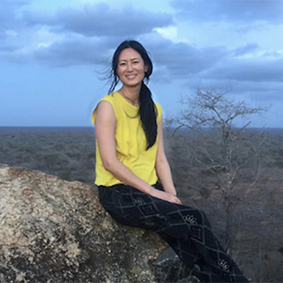 Moderated by Joyce Hu, Co-Founder of Marlin Ray
Never having been on a surfboard, Joyce Hu was thrown into the deep end of the surf world when she met her husband Josh, a surfer eco-activist. She brought her experience in ethical fashion to launch their joint project, Marlin Ray, a fair trade beach goods brand. Being a person of color and an outsider, the lack of diversity in surfing was especially striking to Joyce. She was moved to represent a more diverse surf brand. Both Joyce and Josh are committed to using Marlin Ray as a channel to inspire inclusion and radical sustainability within the surf community and beyond.